5 Ways to Thank Your Customers This Holiday Season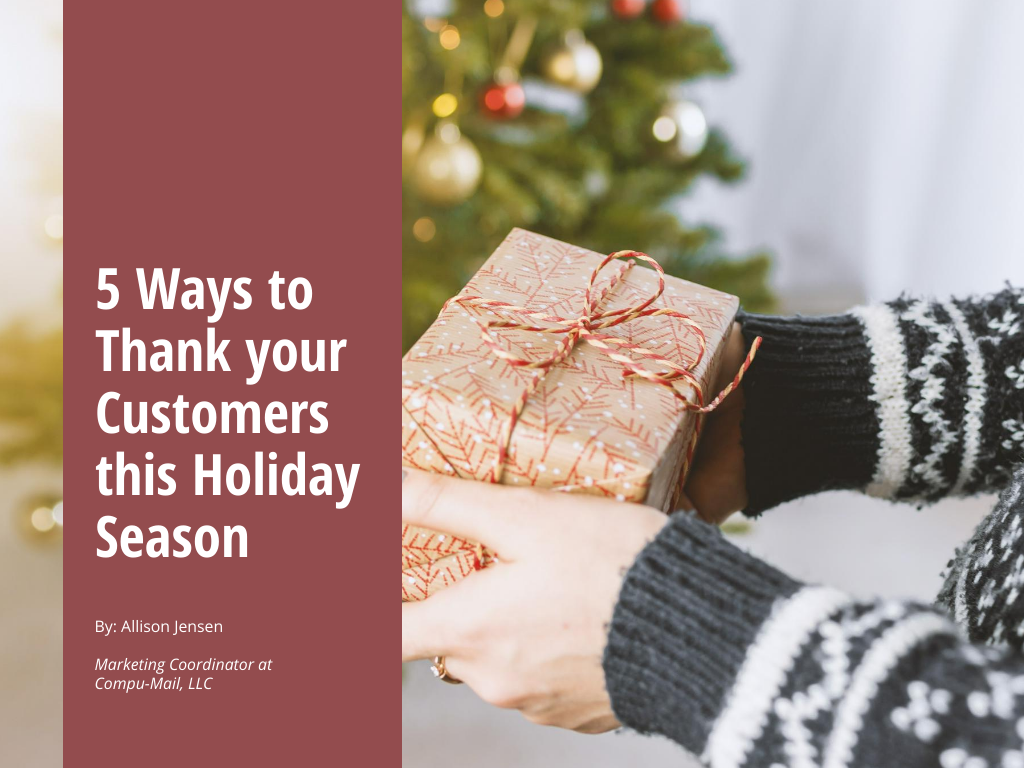 As another year comes to a close, it's important to take a moment to reflect on the partnerships that have helped you become who you are today. And considering how many holidays there are between now and December 31, the opportunities to say thank you to your customers are endless.
To help you get started, here are 5 ways to thank them this holiday season:
Send them a note. It may sound cliché, but a heartfelt, handwritten note really does go a long way toward showing someone you appreciate them. The fact that you sat down and put pen on paper illustrates the importance of the relationship and helps build brand loyalty.
Highlight your customers on social media. This can be as involved as a complete marketing campaign with holiday case studies and multiple social media posts, or as simple as a dedicated hashtag and a few posts thanking your customers on Instagram or Facebook. Reposting your customers' own user-generated content is another way to spread the holiday spirit and encourage consumer engagement with your brand.
Throw a party. (And hand-deliver the invites if you can!) Inviting some of your most loyal customers to a holiday appreciation party is a great way to bring people together. Encourage your customers to post images from the event on social by creating shareable moments. And extend the invitation to your employees to give everyone a chance to meet and mingle on a more personal level.
Create a personalized calendar. These are always a huge hit for our customers. Designing a calendar with different images, especially when the recipient's name is somewhere on the image, is a great personal touch that they can enjoy all year long.
Raise money for a charity. Try to resist the urge to grab your checkbook and simply mail something out. Instead, consider rallying your employees together to set up a donation jar or baked goods fundraising and donate the proceeds to a charity that your customers are passionate about. Not sure which charity to choose? Set up a poll on social media and hear directly from your customers what cause they value most. Your employees will feel great knowing that they contributed, and your clients will feel great knowing that their cause is supported.
Whatever way you choose to thank you customers this holiday season, make sure it's personal and expresses sincere gratitude. It will go a long way toward strengthening the relationship.
About Compu-Mail, LLC.
Compu-Mail (www.compu-mail.com) provides end-to-end direct marketing and business printing services to companies across the U.S. and Canada. Headquartered in Grand Island, NY, Compu-Mail services include direct mail, email marketing, data driven marketing with database management, statement rendering, variable imaging, and digital retargeting through Google, Facebook, and Instagram. Compu-Mail's subsidiary company, Dual Print & Mail, provides complete commercial print solutions. Compu-Mail can be reached at 800.255.0670 or [email protected].