6 Easy Ways to Build up Your UGC Strategy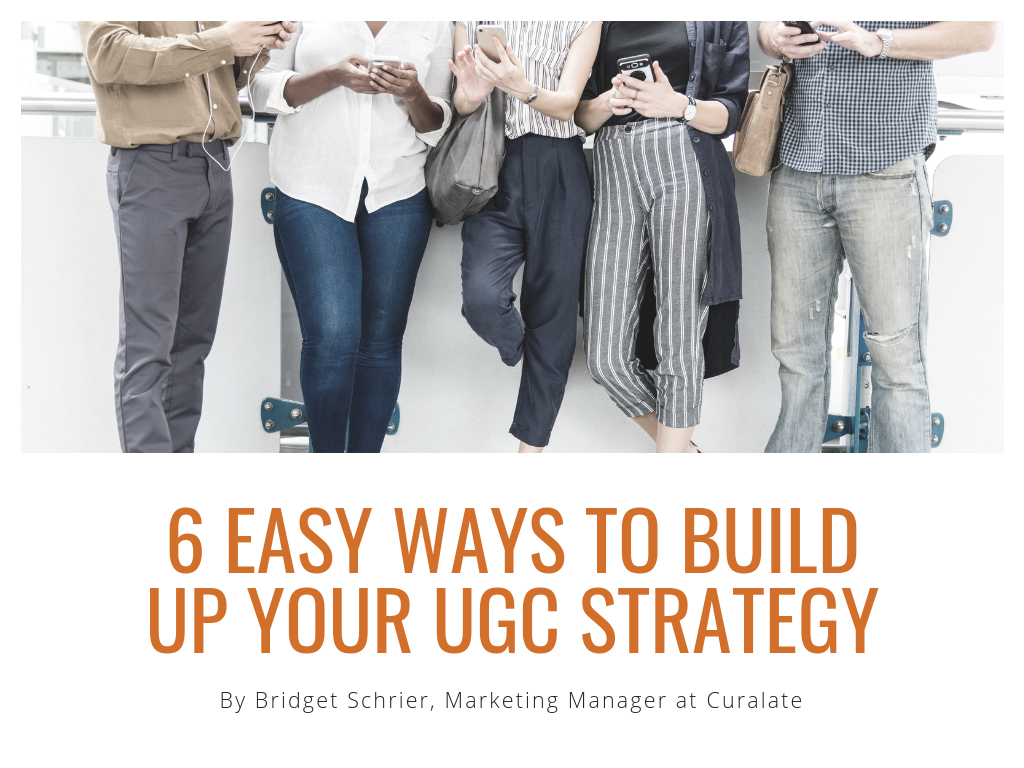 Finding ways to leverage user-generated content (UGC) is top-of-mind for brands today because it demonstrates authenticity, builds brand trust, and saves a lot of time and money when it comes to content creation. Plus, in Curalate's recent Consumer Survey, 50% of consumers said that UGC makes them more likely to buy a product through a brand's social channels.  However, it's easy to get stuck in a content rut sometimes. Here are six unique ways to pepper in more UGC to your content calendar and build a stronger multi-channel UGC strategy—all without sacrificing sales.
Celebrate Holidays, Big and Small 
Did you know that October 1st is International Coffee Day? Or that October 16th is Global Cat Day? Take note of any brand-relevant or just plain silly holidays and celebrate them on social! Even if you don't actually sell pasta, chances are your fans will appreciate a nod to the king of carbs on World Pasta Day on October 25th. See how Aldo gave a special shout out to all the dads on Father's Day this year!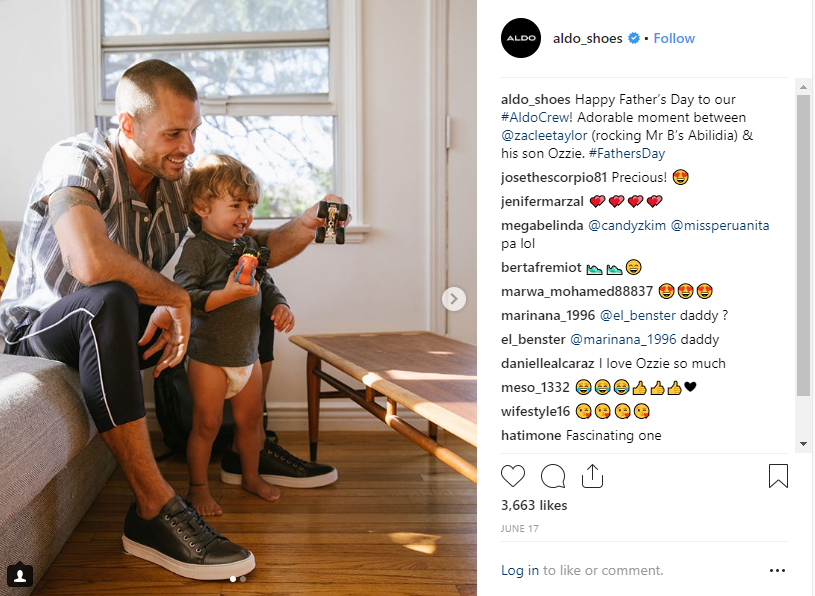 Use a Weekly Theme 
Led mostly by hashtags, weekly themes like #ThrowbackThursday and #TacoTuesday are plentiful and easy to join in on. Feel free to create your own theme, too! Crate and Barrel created #WeddingWednesday where they share beautiful, wedding-themed UGC every Wednesday on their Instagram. Some of the #WeddingWednesday photos are even shoppable via their Like2Buy page, like this one from Crate & Barrel. 
Everyone Loves a Puppy 
A surefire way to grab attention and connect with people? CUTE ANIMALS. Your customers are likely already filling their digital photo albums with adorable photos of their four-legged friends, so why not give them a loving shoutout? Brentwood Home's UGC gallery on their website serves two equally important (sort of) purposes: it lets you shop their line of cozy pet beds and pillows and it totally brightens your day!

Teach Something
One of the most compelling reasons to leverage user-generated content is to help people visualize different ways to use or wear your products, like how to put together an outfit with that bright green dress or which throw pillows look best with that light grey couch. Take it a step further and offer advice or style tips. For example, women's activewear brand Fabletics posts a "Move of the Day" exercise video. You are the subject matter expert in your industry – don't be afraid to show it! 
Build Social Proof
Another great way to amplify your UGC strategy is to utilize the content that your customers are already creating to build social proof. Your customers share pictures of their new favorite products on social every day. This authentic content helps to give other potential shoppers the confidence to buy. With technology like Curalate's Fanreel, you can feature customers' social posts directly on your product pages. And with a ratings and reviews platform like Revere, customers can share their thoughts on a product, as well as upload their own photos of the product directly to a product page. Incorporating UGC directly on product pages is a simple way to increase consumer confidence and drive sales. Here's an example of retailer Windsor leveraging UGC on product pages with both Curalate and Revere to give customers the confidence to buy: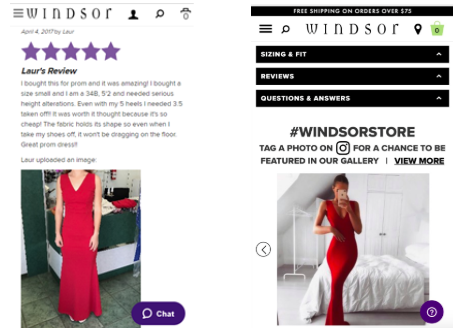 Show Off Your Team 
Your brand has a story beyond what you sell, and who better to tell that story than your employees? Take your fans behind the scenes of a fashion show or charity event and celebrate the real, everyday people who make up your brand. It will connect you to your fans on a deeper level, and gives your team a chance to be recognized! Nordstrom launched a company-wide campaign to celebrate Pride Day 2018 and featured their employees in multiple Instagram posts surrounding the event. If you click on any Pride Day photo on Nordstrom's Like2Buy page, you're taken to a page listing Pride Day parade locations and dates in the US and Canada, plus a suggested list of Nordstrom products you can purchase to look and feel your best on Pride Day.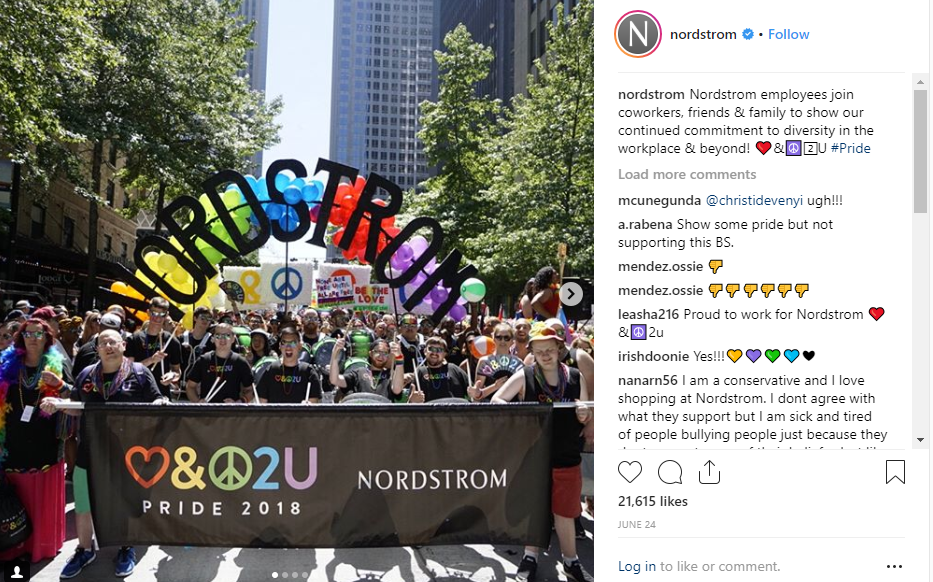 Whether you're just starting to experiment with UGC or you're an old pro, the pressure to keep fresh content in front of your customers can feel daunting. Hopefully, these ideas will help boost your creative spirit and make it easy for your brand to build a strong, engaging UGC strategy.
Bridget Schrier is a Marketing Manager at Curalate, the leading Social Commerce platform. She's in charge of Curalate's content strategy, including managing the blog, client and prospect newsletters, emails, social, and ads. When she's not crafting the perfect pun or incorporating a pop culture reference into Curalate's marketing messages, she's eating breakfast sandwiches, practicing yoga, or listening to murder mystery podcasts.
For more information on Curalate's services, check out their site!