How Revere Empowers Fast Fashion Retailers [Case Study]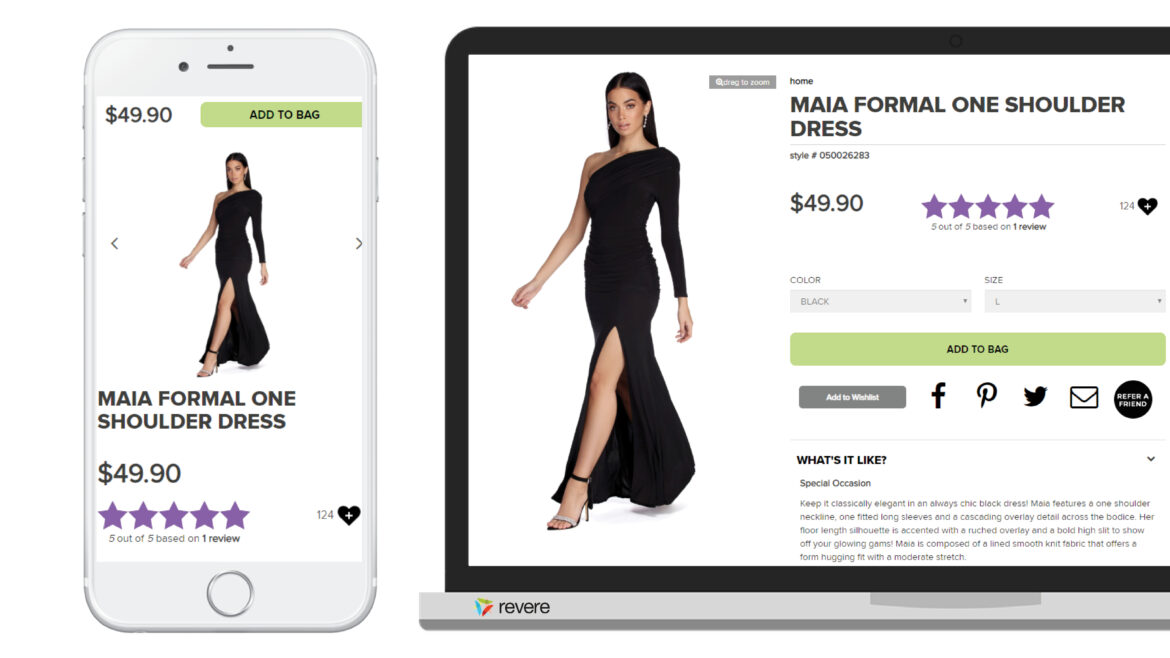 The Fast Fashion Profile
Fast fashion retailers are competing in a rapidly growing industry, where merchandise moves quickly through the supply chain and inventory is continuously replenished with new, on-trend styles. Most fast fashion retailers tend to target a younger demographic–digitally-savvy mobile shoppers who engage with brands on social media and often look to content from influencers and other consumers to guide their purchase decisions.
The Need for User-Generated Content as a Differentiator
The intense pace of the fast fashion industry puts pressure on retailers to continuously update their eCommerce sites with new product information and engaging content, and a steady increase of new players can make differentiation difficult. User-generated content is an outstretched hand in a crowded marketplace, helping consumers wade through the clutter to find the products they want and need.
How Revere Increases Conversions and Drives Sales
Customizable Ratings and Reviews Templates 
One type of UGC, product ratings and reviews, adds invaluable social proof to eCommerce sites that can also guide purchase decisions and give consumers the confidence to buy. 92% of customers read reviews when shopping online, and incorporating reviews on a product page can increase conversions by up to 178%. With Revere, the ratings and reviews platform built by the eCommerce experts at Virid, fast fashion customers can look to reviews to inform their purchases. Each review template is completely customizable, allowing retailers to adjust fields for their unique products and include key product details like fit (does the item run large, small, or true to size?), material (is the material soft, tough, stretchy, fitted?), and even the best uses for an item (night out, workplace, or casual?), along with any other custom questions that fit their products and demographic.
And with Revere, customers can also upload their own images wearing the product alongside their review. This provides another form of UGC that helps customers picture the item in their own lives and effectively "try before they buy", which can also reduce return rates for fast fashion retailers. Customizable reviews and added social proof from user uploaded images allow fast fashion retailers to connect with their young, digitally native shoppers and create a tailored customer experience.
Automatic Post-Purchase Emails 
Revere's robust customer emails allow retailers to schedule automatic review solicitation emails post purchase. This is particularly important for fast fashion retailers, because products go out of stock quickly, and retailers need to constantly generate reviews for new merchandise. Revere makes review solicitation simple, leaving more time for retailers to focus on selling.
Unique Heartbeat Feature 
The Revere Heartbeat feature adds instant social proof to product pages. Unlike any other reviews platform, Revere allows customers to "heart" products they like without signing in or distracting from their shopping experience, providing a frictionless way to leave feedback that lets shoppers know what's popular.
Mobile Ready 
In addition to a comprehensive features list designed to help retailers sell smarter, Revere's mobile-first design ensures all features are 100% responsive on mobile devices, ideal for the young fast fashion demographic. Customers can read reviews easily on the go, or even check out product ratings on mobile while shopping in store.
With these enterprise-grade features, Revere empowers fast fashion retailers to engage customers directly on their site, providing invaluable social proof to improve conversions and drive sales.
For more information on how Revere can boost your eCommerce business, contact [email protected] or schedule a Revere demo.