How to Optimize Your Holiday Emails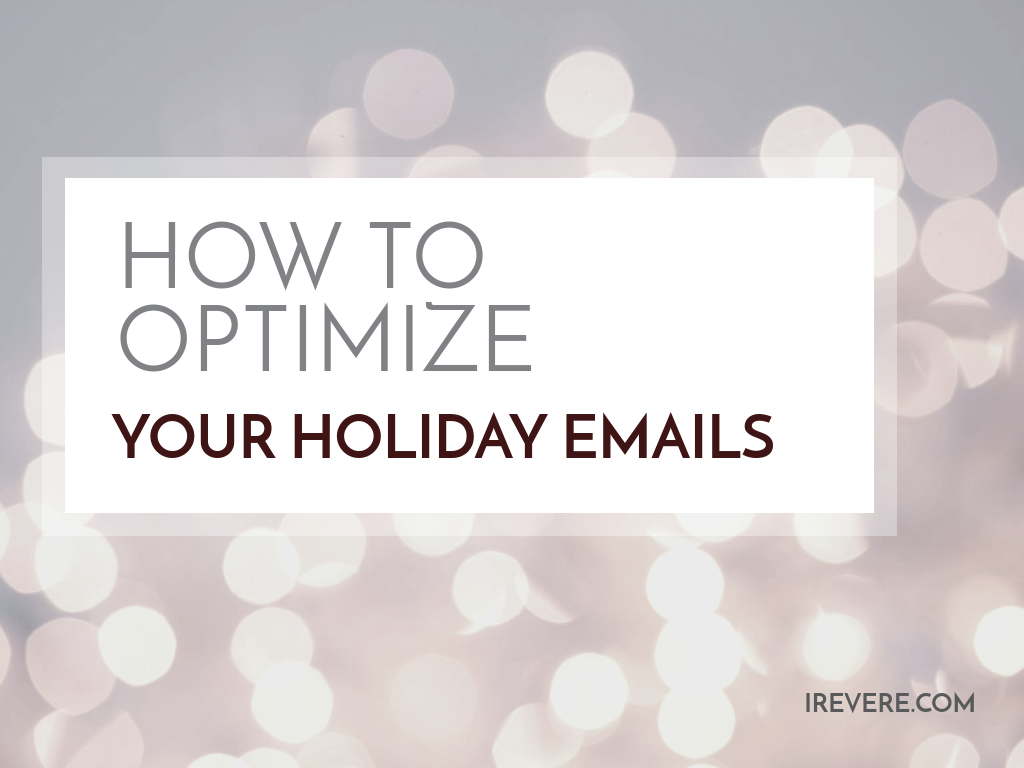 The holidays are every retail marketer's dream. Not only is the season abundant with sales and promotions that drive traffic to your site, it also provides endless opportunities to engage your customers. Today, we're focusing on holiday email marketing opportunities:
According to a study by MarketingSherpa, 72% of people prefer to receive promotional content through email. What's more, email has the highest conversion rate (at 66%!) when it comes to purchases made as a result of marketing messages, according to DMA. Make the most of your holiday email campaigns with the following tips:
Get creative. Holiday is the perfect opportunity to unleash your creative marketing powers. Don't just send out sale announcements. Send holiday gift guides, use videos, work in more images or emojis into your emails. There's plenty of content to be made around the holiday season, just make sure it aligns with your brand message.
Nail your subject lines. Be sure to call out that this email is for a holiday, because customers are looking for coupons and special offers during this time and will be more likely to click. According to a study done by Persado, using emotional language that invokes exclusivity or even anxiety (i.e. You're invited! or The event is on…) will boost email opens as well, particularly during the holidays. But be careful not to overuse urgency in your subject lines–this is the most frequently used emotion in eCommerce emails and, according to the same study, one of the five least effective emotions.
Ask for reviews. There's no time like the holiday season to ask your customers to share their feedback. Consumers are already in the giving mindset and more likely to share their opinions. This is especially true when there is an incentive attached, like a coupon code or loyalty points that they can use towards their holiday purchases. However, it's important for retailers to remember that consumers will also be particularly sensitive to any issues with their customer experience during the holiday season. An issue with an order or shipping, or a slow site experience during the stress of holiday shopping can lead to negative reviews. And while negative reviews are not always a bad thing and can in fact benefit your business, brands will need to be aware of these increased consumer expectations in order to fortify their website and prepare their customer service team.
Optimize your emails for mobile. According to Campaign Monitor, 53% of emails are opened on mobile devices, and one out of every three clicks within an email occurs on a mobile device. In 2017, the majority of holiday sales came from mobile, rather than desktop users. Your emails are designed to bring people to your site, and both your emails and your site should be optimized for mobile to ensure a seamless customer experience.
Make it personal. According to Experian, personalized emails deliver 6x higher transaction rates. Despite the stress of the season, the holidays are meant for human connection and all the warm fuzzy feelings. Add a sprinkle of cheer to your emails by making them personalized for specific customer segments—for example, dedicated emails for your most loyal customers, thanking them for their business and offering something in return. Show customers that they are valued, and you can't go wrong.
For more content like this, follow us on Facebook! And be sure to download our latest whitepaper on achieving brand loyalty.