Closing the Customer Feedback Loop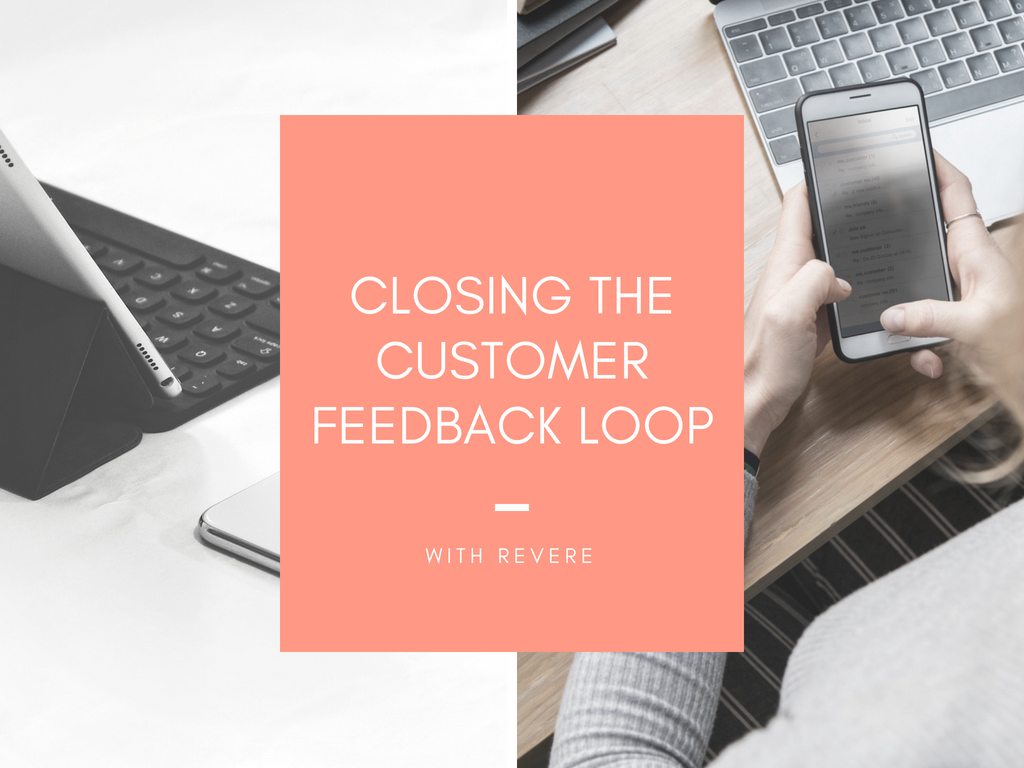 The customer feedback loop is a strategy for constant product and process improvement based on users' opinions and suggestions. This closed feedback loop involves four phases: Ask, Categorize, Act, and Follow-Up. By asking your customers for feedback on a product or service, you can categorize the feedback into different buckets and act on the feedback to implement changes that will benefit your customers. Then, you can follow-up with customers to let them know you are listening to their feedback. When used effectively, this system should be a cycle, helping you to continuously meet your customers' needs and grow your business. However, gaps in this cycle can lead to a negative customer experience and decreased brand loyalty.
Read on for how Revere can help you close the customer feedback loop and better serve your customers:
Ratings and Reviews
Ratings and reviews are an easily quantifiable form of user-generated content that allow you to quickly gather customer sentiment on your products. With Revere, customizable review displays also allow customers to include information on product specifics (ex. fit and rise for clothing) to gauge how well your products work for your customers. And Revere's post-purchase emails can be sent automatically to customers, allowing you to continue to engage with them after a purchase and encourage product reviews. This covers the "ask" portion of the feedback loop and gives you a good foundation to categorize feedback based on different themes you find in the reviews.
Question and Answer
With Revere's Q&A feature, members of your team or other customers can answer product questions quickly and easily, engaging with customers and creating an additional opportunity to turn shoppers into promoters. Q&A is also particularly helpful in closing the feedback loop, because it allows brands to participate in a conversation with consumers, and it also allows other customers to assist each other and reduce the workload of your customer service team. Q&A can play an important role in categorizing feedback based on certain patterns that arise in the questions, and it allows your team to act on the questions by answering them and perhaps updating product pages to provide more information for future shoppers. Additionally, whenever a customer question is answered, they receive an email notifying them of the response, which is a great way for brands to follow-up after a question is posted.
Moderation
The Revere Moderation dashboard allows you to monitor any and all UGC on your site, as well as respond quickly to customer questions or issues. Instant escalation and advanced filtering can send customer reviews or questions directly to customer service and help you anticipate issues in your supply chain to better serve your customers. Filtering is a great way to categorize feedback that you receive from customers, and depending on the question or review, escalation allows members of your team to act on that feedback in the appropriate way. Acting quickly and proactively in the face of customer concerns is a tenet of any positive customer experience, and Revere allows you to do just that.
Heartbeat
The Revere Heartbeat feature is a unique, frictionless way to earn customer feedback on your products. With the click of a button, customers can "heart" items that they like, and other customers and your online team can see which products are most popular. The heartbeat also provides additional product insights that help you identify potential issues. For example, if an item on your site has hundreds of hearts but very few sales, maybe the price is too high, or customers read reviews and found that the fit was off. This type of feedback can help further categorize the UGC you receive and implement changes that could benefit your customers.
Close the customer feedback loop and delight your customers with Revere. For more content like this, follow us on Facebook!